Aloha and welcome to my website! The intent behind it is to create a personal page where friends can find out more about what I am up to while I'm away from home, having my "adventures." Life itself is an adventure, so there's always more to add! Hopefully, you'll see something you like and want to come back again. Thanks for stopping by!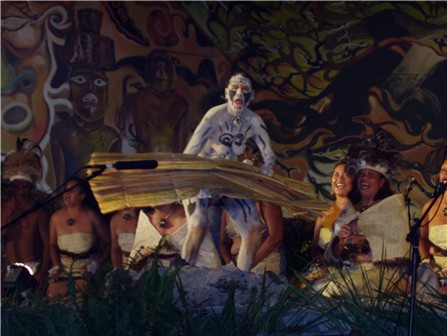 Group singing competition for candidate Tavakenui - Rapa Nui, Tapati 2004
Wednesday, February 4, 2004
View a slideshow of the night's event
Also check out the Travel Journal for full descriptions of the events pictured!
View pictures, photo albums and slideshows relating to the stories featured in this website.
Rapa Nui Journal Archive of e-mails and entries written during trips.
Polynesian Languages Reference Page of words used within this site, along with links to other relevant sites.
Marketplace
Coming Soon! The 'Ulu Tree Fruit Stand, with Hawaiian products for sale.
Links
Interesting sites, helpful sites, friends and/or partners.